Case Study
Applied Creativity: A case study in energy & wastewater management.
Topock, AZ
Proactive. Creative. Resourceful. Efficient.
As state governmental bodies continue to work toward cleaner air regulations, Applied LNG has supported their efforts by producing LNG with renewable natural gas to lower the carbon footprint of their customers. "Fleet operators, from transit buses to garbage trucks, are all able to lower their carbon outputs, which taken as a whole is making a significant impact. We offer a renewable, economical and experienced alternative to carbon heavy fuels" adds Joe.
The original plant in Topock, AZ was constructed in 1997, and through proactive and consistent maintenance and upgrades, continues to perform at maximum capacity.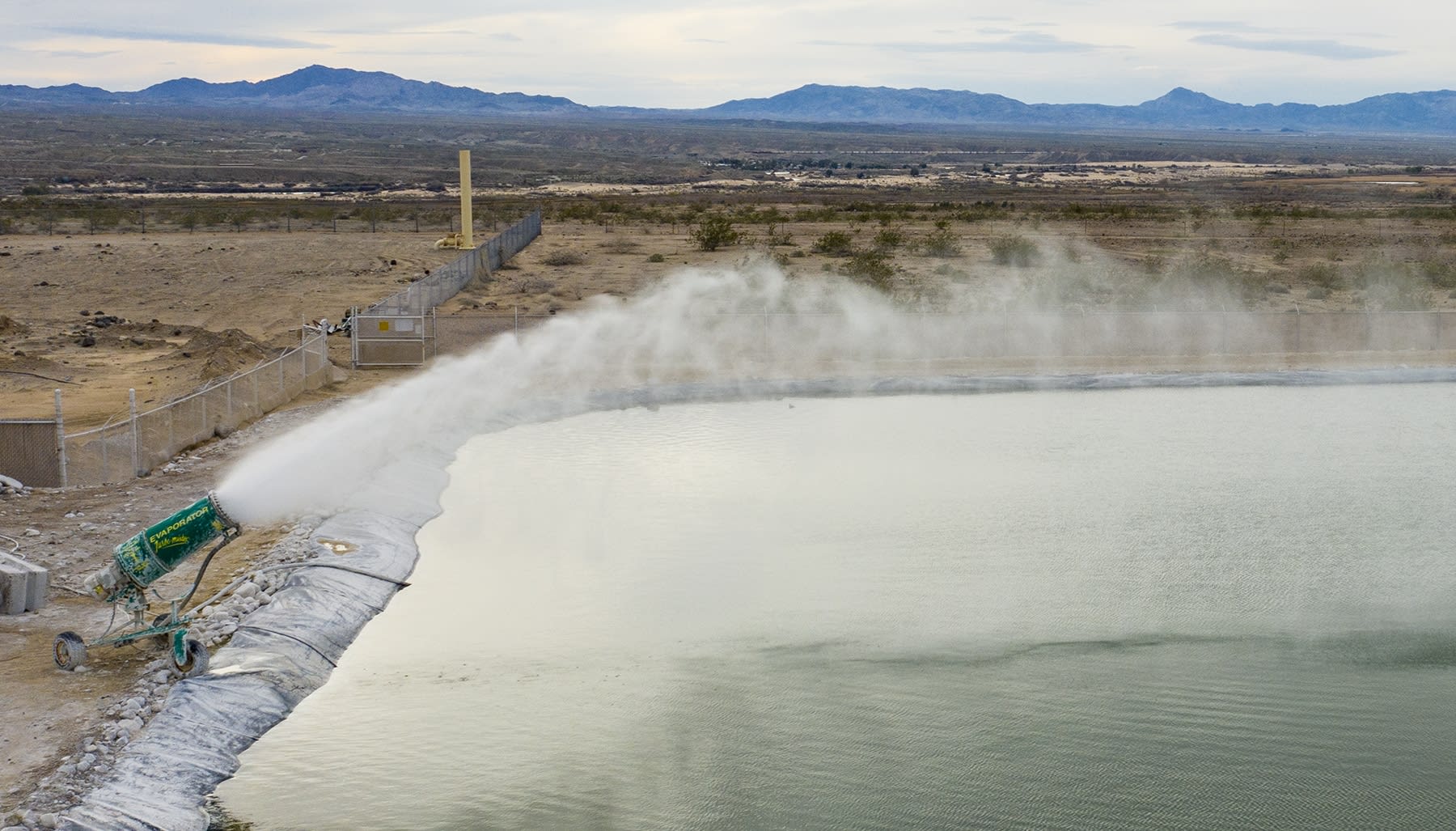 We built this plant twenty two years ago. Unit 1 was commissioned in 1997, and Train number two was commissioned in 2014, in response to increased demand for LNG.
This was also when Joe and team decided to invest in an EcoMister Evaporator (formerly Turbo-Mister). "We blow down about 20,000 gallons of cooling water a day, and thanks to the efficiency of the EcoMister Evaporator, we evaporate just about that same amount every day as well" Joe says with a chuckle.
The decision to invest in the EcoMister Evaporator was economical more than anything but regulatory compliance is never far from anyone's focus at Applied LNG. With a 680,000 gallon pond of cooling tower water, the choice came down to building a second pond to meet the growing demand for LNG, (and the growing revenue opportunity to supply it), or find a way to avoid that enormous capital expenditure and still meet the new demand. Enter the EcoMister Evaporator. Joe explains it simply as being resourceful and creative: "With the limited size of our property, it was both cost and space prohibitive to build that second pond, so we experimented with the EcoMister Evaporator and it quickly proved to be the perfect solution to our challenge. Costing us only pennies a day to operate, we use the EcoMister Evaporator all winter long when natural evaporation is slower, so we know that we're never at risk of pond overflow, and in summer we actually use it less, and still bring the water levels way down. Pond permit regulations are completely satisfied, and our costs are just so low with this process."
Performance of the EcoMister Evaporator has been, to use Joe's words:

Excellent. It simply never breaks. I definitely recommend the EcoMister Evaporator to anyone who's looking to have a cost-effective way of removing water. We're very pleased.
With a third unit now in the works, and a bullish outlook for LNG over the next 20 years, Joe can count on the EcoMister Evaporator to keep water levels and operating costs down and his prospects for growth up.